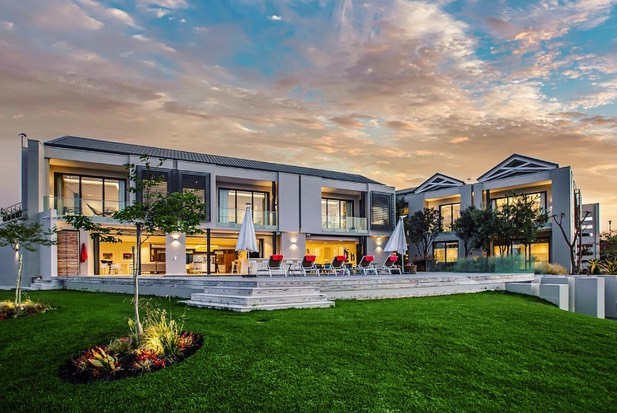 The Pinnacle of Splendor & Luxury.
A remarkable contemporary home that sports a superstructure of steel and concrete. 
This modern-day mansion boasts 100 tons of steel and 2,700 sqm (29,000 sqft) under roof. Astonishing array of amenities & bespoke items from around the world. Set out over three meticulously curated levels, indoor/outdoor nirvana, enhanced by 180-degree unobstructed views over the lush generous cascading landscaped garden. 
The moment one arrives beneath the impressive porte-cochere, it is evident that this is no ordinary home. The interiors are furnished with luxurious materials & furnishings that create a different atmosphere in each room. Open plan living areas lead out to the entertainer's patio including a mirror image indoor/outdoor cocktail bar, sunken fire pit, and state-of-the-art self-cleaning pool. Two gourmet kitchens include a 2.4-meter wide Lacanche oven, as well as walk-in refrigeration and cold-room.
The west wing offers a fully contained guest suite with an open plan kitchen, dining area, and TV lounge. A galleria mezzanine library adds a restful air to the large formal study. The top floor comprises four spacious en-suite bedrooms and a master suite with a feature Hollywood style walk-in closet. 
_____________________⠀
⠀⠀⠀⠀⠀
📍Location: #WaterfallEquestrian #Midrand
Price: ZAR 69,000,000 🇿🇦
Price: USD 4,430,000 🇺🇸
Price: EUR 3,730,000 💶
Price: GBP 3,315,000 🇬🇧
Accommodation: 6 bed, 6 bath, 8 garage
🏡 Agency: Pam Golding Properties Group
Agents: Nicole Horwood & Jet De La Rey
🌐 Website: www.PamGolding.co.za
⠀⠀⠀
_____________________⠀
⠀⠀⠀⠀
Follow me at ➡️ @LuxuryHomesJohannesburg ⬅️!⠀ Follow me at ➡️ @LuxuryHomesJohannesburg ⬅️!⠀ Follow me at ➡️ @LuxuryHomesJohannesburg ⬅️!
_____________________⠀
⠀
#dreamhouses #picoftheday #modernhomes #millionairehomes #beautifulhouse #housedesign #pamgolding #pamgoldingproperties #residentialdesign #southafricandesign #realestatephotography #mzansi #housebeautiful #modernhome #mzansicribs #luxuryrealestate #moderndesign #southafricanstyle #instahouse #beautifulhome #southafrica #architecture #realestatesouthafrica #luxurylifestyle #luxury